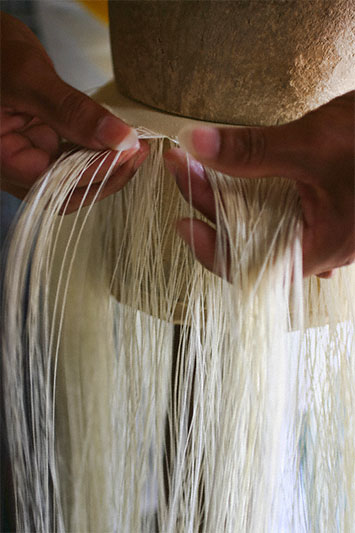 Those are the hands of Simón Espinal.
Son sin iguales,
los manos de Simón Espinal.
They are without equals,
the hands of Simón Espinal.
I searched for fifteen years to find those hands. Those hands create the finest hand-woven hats on planet earth. Possibly, the finest ever. Hats that are, quite literally, the stuff of legends.
Just as fishermen swap stories about the biggest fish they ever caught, Panama hat aficionados swap stories about the finest Montecristi hats they have ever seen. Simón's hats are so finely woven that if you saw one and told the flat truth, you'd be hooted out of a Liars Convention for telling whoppers.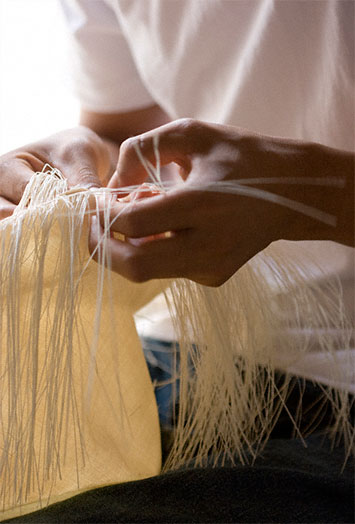 In this photo, Gabriel is working on the brim edge of a Simón hat. Notice how Simón's hat glows as the light searches to find a way through it. So thin. So fine. So beautiful.
When I hold a Simón hat, I never worry that if I drop the hat it might fall to the floor. I worry that it might float away.
As I said before, for me, the search for the very best weaver, the very finest Montecristi hats, has been like a Holy Grail quest. More often than not, the Monty Python version.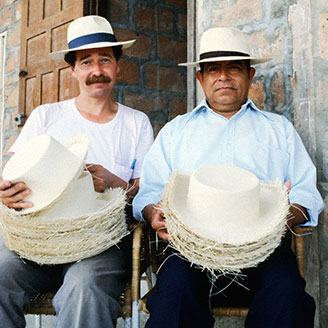 BBB and Rosendo Delgado in 1988. We both looked younger then. As you can see from the bad fit, that's not my hat, just one that Don Rosendo had handy.
I touched my first Montecristi hat in 1988. I felt the thinness between my fingers, weighed it in my palms, held it up to the sun to see the concentric rings in the glowing crown, examined it closely all over admiring the weave texture. I did the same with several dozen other hats, one at a time, until I reached the bottom of the stack. Then I asked, meekly and respectfully, "May I have some more, sir? Finer than those?"
For more than twenty years, I have been searching for the finest Montecristi hats. Always, I have asked "Are there any finer ones?" ¿Hay unos más finos? I asked that question so many times over so many years that it became a joke. All of the dealers in Montecristi knew that I always would buy the very finest hats they had. They knew to bring out the best for Sr. Más Fino.

I have no idea how many thousands and thousands of Montecristi hats I have personally examined over the years. Maybe 30,000?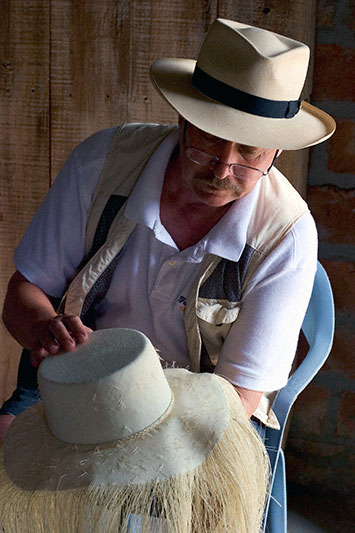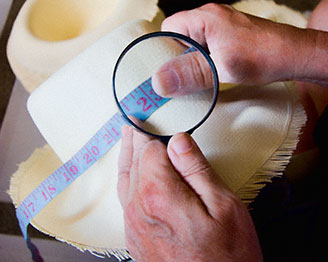 Photos © Roff Smith
Simón's hats are the best I've ever seen. Some are awesome. The others are miracles. No one disputes that he is the best weaver alive.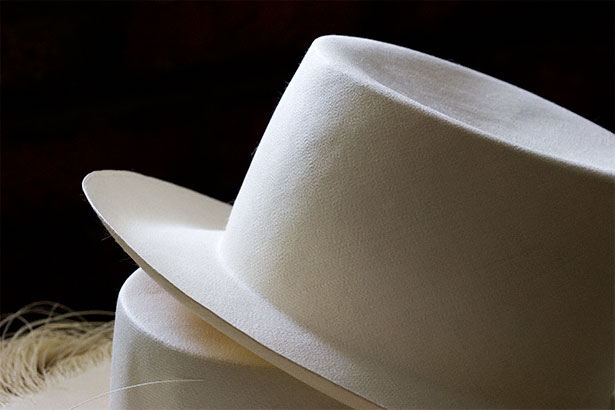 Simón is not only the best weaver now, he is one of the best weavers ever to touch toquilla. (See Is Simón Espinal the Best Weaver Ever?)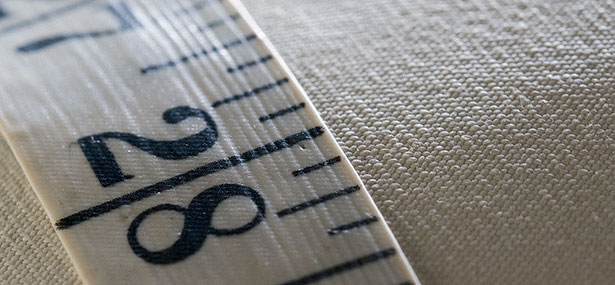 I found Simón because I kept asking the question:
"Weaver, weaver, of the straw,
who's the finest of them all?"
The answer kept coming back:
"Simón. Simón. Es-pi-nal.
He's the finest of them all."
So I found Simón.
The Best Weaver. My Holy Grail.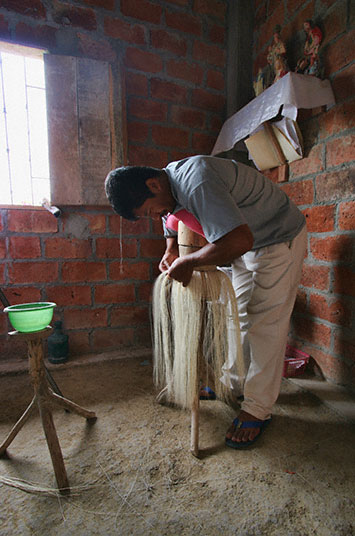 If you're a golfer, maybe for you it would be meeting Tiger Woods. If you're a rocker, maybe it would be Mick Jagger, or Elvis. If you play chess, maybe Bobby Fischer. For me, it was meeting Simón Espinal. The reigning superstar of Montecristi hats.
He's nice to me. He lets me hang with him.
When I first met Simón, he was not able to earn enough from weaving to support his family. So he also had to find some other kind of work in order to get by. I asked where he worked. A fishing boat. He worked on a fishing boat.
A fishing boat! Those hands! Sharp hooks, malfunctioning machinery, sharp-billed fish, nets and lines full of who knows what, all manner of ways to risk and ruin the most skilled hands on the planet. A fishing boat. Damn, Simón, why not just juggle broken bottles, cats, and chain saws? A fishing boat. It's like asking your teenage daughter where she's going and she answers that she's spending the evening with a pimp who sells crack. Okay, no risk there. Good call.
We talked. Not an easy thing. My Spanish sucks. It's the verbs. And the nouns. I asked him to weave me a hat. He did. It was a slow, long-distance process. But we managed. It is a phenomenal hat. I parted with it reluctantly. It has a good home in the Pacific Northwest.
Simón and I talked again. We had help. We talked about higher hat prices and no more fishing boat. I asked him to weave his miracles for me. He agreed.
I promised him that I would spread his name around the world. I promised him that someday I would sell one of his hats for $25,000. He smiled and nodded and decided I was out of my mind.
Simón is the best in the world at what he does. His skill and artistry entitle him to a substantial portion of the market price of his creations. So that's what he receives.
Simón Espinal is a great artist. I am his gallery.
And his greatest admirer.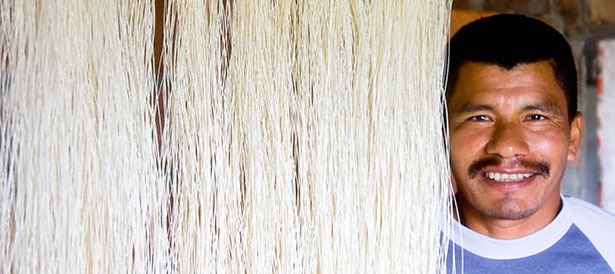 The Panama Hat Company of the Pacific dba
Brent Black Panama Hats
1314 Center Dr., Suite B-448
Medford, OR 97501
There is no retail store at this address. (more)
Toll Free: (888) 658-6500
Phone: (541) 201-3113
bbb@brentblack.com
Text and photos © 1988-2022, B. Brent Black. All rights reserved.
100% Secure Shopping