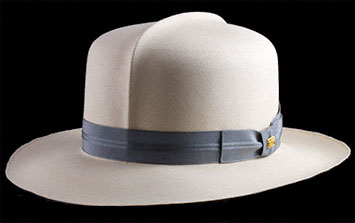 Looking for the stuff of legends? A Montecristi Panama hat woven so finely that it seems to be made of cloth, not straw? I mean the real deal. As in all the way to the top, the very finest in the world. The absolute highest expression of the Art of Montecristi. The ones all the fuss is about.
If just the idea of a hat like that makes you tingly for a white linen suit, slowly turning ceiling fans, and tropical islands, then I'm your man.
If it makes you tingly for a strong light, magnifying glass, and tape measure, then I'm your man. But the other scenario seems more fun.
If you represent a museum, art gallery, or private collection, I have what you're looking for.
If you need a hat for Oscar night, you'll have the best hat in the house.
I'm Not Saying I Can Get Them. I Already Have Them.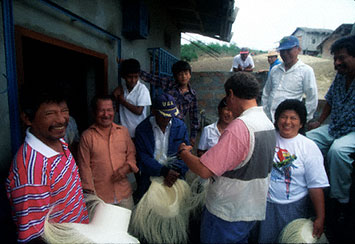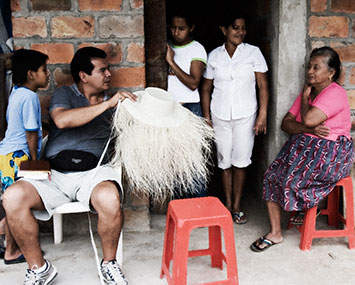 I purchase the entire annual production of the best weavers alive today. It is simply not possible to find a hat that is finer than my finest.
How do I do it? How do I buy all of the very finest hats? Simple. I pay more than anyone else in history. Actually, there's more to it than the money.
It helps that the weavers have known me for almost twenty years. I am a familiar face.
We buy hats all year long, every week. Jorge comes to the village, comes to the weavers' homes. If they have a hat ready and can't wait till Saturday, they can bring the hat to him and he buys it.
They know my foundation has brought doctors to the village many times, providing free medical care for their families. I have been honored to be a recurring guest in their homes. The walls of many of those homes display photos I made of family members creating their art. With help from Charlie Sheen and Hartford York, we built a water storage system for the village in 2008. (see foundation projects)
To me, the most important achievement of all, the one I am most proud of, is that I have always kept my word. I wanted to be the first White Man in history to do so.
The weavers have learned that if I promise to do a thing, even an impossible thing, I will do it. Promising Simón I would sell his best hats for $25,000 was, perhaps, a little like a baseball player pointing to where he would hit a homerun, or a boxer predicting the round in which he would knock out his opponent. Yeah, like that.
How Fine Are the Finest?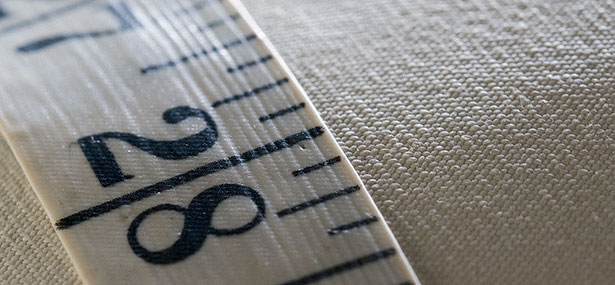 A hat with 20 rows of weave per inch is finer by far than the vast majority of Panama hats most people ever see. A hat with 25 rows of weave per inch is an impressive hat (even to me, after all these years and thousands of Montecristi hats). A hat with 30 rows of weave per inch…well, that is a treasure, an astounding hat, a hat that could easily become the focus of attention and conversation at any gathering to which you might wear it.
And yet, I have hats that are even finer. Hats with more than 40 rows of weave per inch. Hats with more than 50 rows of weave per inch. Even a hat with more than 60 rows of weave per inch.
The only way to describe these hats is to say that they are impossible. It is simply not possible that human hands could weave straw that fine.
There Is More To A Fine Hat Than Just Fine Weave
There is much more to a fine hat than the simple math of counting the weave. There is beauty in the achievement of a high weave count, beauty in the degree of difficulty, beauty in the rarity, beauty in the art.
Figure skating and gymnastics cannot truly be reduced to a 10-point scale. The Mona Lisa can be analyzed and described mathematically, but the Mona Lisa is more than the math. If you owned two Rembrandts, would the one with more brush strokes be the better painting?
I look for the most beautiful hats I can find. Much of their beauty is in their fineness. But not all.
Flaws, Irregularities, and Imperfections Guaranteed
Every hat has 'em. If I bought only absolutely perfect hats, I wouldn't have a single hat.
Imagine weaving with straw that is, say, 40 x 40 rows of weave per inch. That would mean 1600 "weaves" per square inch. A hat surface is about 250 square inches. Yikes! Almost half a million "weaves" in one hat.
Right. Not likely a weaver will go half a million chances without an oops here and there.
Every hat has its own personality. As with people, you can see the beauty, or the flaws, in every one of them. It's just a matter of how you look at it. And what you want to see.
One Weaver, One Hat, Three Months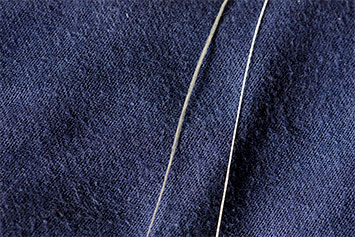 Floss on left. Straw on right.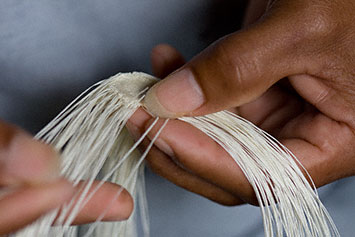 The very best weavers, working full time, need at least two months to weave the finest hats.
Each Master Weaver can produce only five, maybe six, hats per year. And only two or three of those will be his/her very best work.
The best weaver alive, Simón Espinal, can weave hats with more than 50 rows per inch. He weaves only four hats each year. Three months to weave one hat. In 2008, at my request, he spent five months weaving the finest hat of his career, possibly the finest hat ever woven.
As you might imagine, weaving with straw about the thickness of dental floss is extremely demanding work. The weaver must maintain constant, continuous focus on the threadlike straws and what his/her fingertips are doing with them. If the weaver yields to the hypnotic rhythm of the weaving, and allows his/her attention to drift, inconsistencies and irregularities will result. Anyone who has ever done meticulous hand work knows how exhausting it is to maintain constant concentration, hour after hour. Simón says that four hours is about the limit without a break.
The best weavers weave their best hats during the "cool" season, sometimes called the "dry" season. During the "rainy" season, they weave hats that are less fine than their finest.
Plus Six Weeks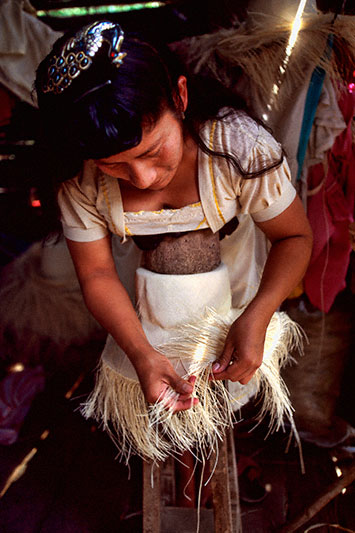 After the weaver finishes, the rematadora, azocador, cortador, apaleador, planchador, and blocker must all do their parts. One hat, many hands. Each pair of hands must be highly skilled at their tasks. Each task must be allotted sufficient time to be completed properly.
All together, these other stages add a minimum of six weeks to the time required to complete a hat. That means that the very finest hats require four and a half months, possibly more, of highly skilled hand labor from jungle plant to finished masterpiece.
Four and a half months of skilled, focused, hand work to create a single hat, a single work of art.
How much do you earn for four and a half months of work? Are you the best in the world at what you do?
Simón. Marcial. Fausto. Aura. Gisela. Carlos.
They are the best in the world.
They may also be the last in the world.
To save their art, you must buy their art.