Seriously. Think of all of the people in the world you would expect to wear great Panama hats while stylin' 'neath the palms™. Who are you going to put ahead of Jimmy Buffett? No one, right?
But the man wears baseball caps. Baseball caps! I don't get it. It's not like he's on a tight budget, or anything. Tell me, when you're busy having tropical fantasies of you living the Jimmy Buffett island lifestyle, are you wearing a baseball cap?! Of course not. No one daydreams about wearing a baseball cap.
That's so true that ForbesLife magazine used the quote for the opening line of the nice article they wrote about me.
"No one daydreams about wearing a baseball cap," notes hat dealer Brent Black. But a Panama hat could star in any fantasy of tropical escape. May 2010 issue.
And who do we know who writes and sings about fantasies of tropical escape? Right. Buffett wrote the soundtrack for my daydreams. For about fifteen years. As I moved from Cincinnati to San Francisco to Dallas and back to San Francisco, I was moving in time to Jimmy's songs. Boat Drinks was like a personal anthem. One particular line on an endless loop in my head. "I gotta go where it's warm!" Oh yeah. Good advice. I followed it.
In 1987, I moved to Hawaii, and stopped moving. I finally got it right. Warm at last! Warm at last! Thank God Almighty, I am warm at last!
Maybe I shouldn't admit how much of a fan I was/am. When I went to a Buffett concert at the Berkeley Greek Theatre a million years ago, I dressed the part. I wore a captain's cap, a blue and white horizontally striped cotton sailor sweater, white pants, and deck shoes. Yeah, really.
As I was approaching the entrance gate, a car full of fans started honking and yelling and waving as they drove by. "There he is! There he is!" I looked around to see where he was, and everyone was looking at me. Yeah, really.
Inside, sitting in the stands before the show began, wishing the gate guards hadn't confiscated the beers I had rolled into the sleeping bag we'd brought to use as a blanket if needed, someone behind me tapped rather insistently on my shoulder. "There's some people back there trying to get your attention." He was pointing back and up.
I looked where he was pointing. As soon as I looked back, about two dozen people jumped to their feet and shouted "Hey, Jimmy!" while waving like, well, parrotheads. I waved back. I swear I'm not making this up.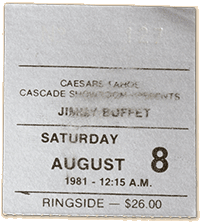 In Tahoe for a concert, I was waiting in line to pick up my tickets when I saw JB and bodyguard walking through the casino on their way to the exit. I couldn't believe no one else in the line recognized him. They passed within two feet of us. I remembered the line:
"'I don't want the fame that brings confusion
Where people recognize you on a plane"
I decided not to say hello, and start an autograph riot. Respect.
Later, at the concert itself, a very attractive groupie wannabe (I guess) four tables down and a little to the right of ours kept turning around and looking in my direction. I figured someone was missing from her party and she was looking for him/her. She was very pretty, so she caught my attention every time she did it. At some point, I got up to go to the men's room. Beer. She came too. Next thing I knew, her right breast was on my left elbow. Happy elbow. I almost wet my pants. What the hell? I'm no handsome hunk. Women do not try to pick me up. Unless it's to try to throw me through a window or out the door.
I don't remember what I was wearing. A bunch of white cotton things, I think. She called me Jimmy and made some incredibly appealing suggestions. I decided my date would not find them equally appealing, so I was forced to decline. Damn. Maybe I should not have presumed to decide for my date. Maybe I should have asked her.
Fun stuff. But I really don't get it. We don't look alike. We're both short and have curly hair and blue eyes, but that's about it. We're not exactly twins. Our bank accounts look nothing alike, either.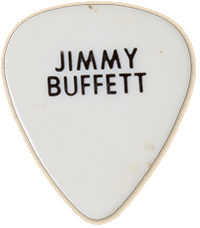 At the Waikiki Shell, he hit me with a guitar pick. I was in, I don't know, maybe the fourth row. I was standing up. Everyone was standing up. He was singing Fins. ("She came down from Cincinnati." Hey, I came down from Cincinnati.) I thought I felt something hit my chest. I looked down and there was a guitar pick at my feet with Jimmy Buffett printed on it. What are the odds? I've been to a jillion baseball games, compared to a handful of Buffett concerts, and I've never even been close to anyone catching a foul ball. But a Jimmy Buffett guitar pick went home with me that night. Still here.
So, I'm just sayin'—I've supported his work for about forty years now. I wore out records and replaced them. I bought entire sets of his body of work to give as gifts. Then the records were replaced by tapes. Then CDs. I've bought at least one of everything (including Rancho Deluxe and High Cumberland Jubilee) and several of many. You'd have to agree, I've supported his work. For forty years. Would it kill him to buy a hat?
Lots of celebrities wear my hats. People ask all the time, "How many of your hats does Jimmy Buffett have? How many of your hats does Jimmy Buffett have?" Well, none. Ripley's Museum is planning to exhibit an empty hat stand.
If you agree with me, if you think Jimmy Buffett without at least one of my Montecristi Panama hats is like a tropical island without at least one beach (just doesn't make sense), then let him know.
Send him an email. Send him a letter. Send one a day of each. Notify the relevant blogs and political action groups. Call talk radio shows. Tweet. Talk to people. Do what you must. This is serious.
Don't write to your congressman; that never does any good. People have been doing that for decades and look where it got us. Write to Jimmy. He's more likely to do the right thing than your congressman is.
Are you with me on this? Ours is a beachroots movement. We will convince Jimmy Buffett that he needs to wear a fine Panama hat. Because the universe will remain slightly out of balance until he does.
The hokey pokey is not what it's all about.
It's about stylin' 'neath the palms™.