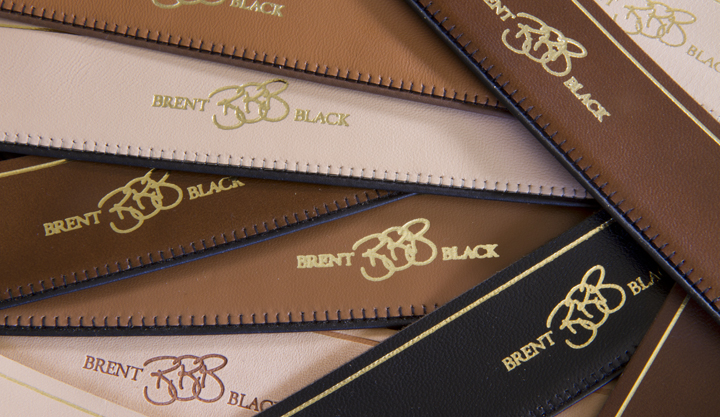 Luxury Quality Leather Sweatbands
To me, the leather sweatbands are second only to the hat itself in importance. As you'd expect, there are good leather sweatbands, average leather sweatbands, cheap leather sweatbands, fake leather sweatbands, and so on. Hardest to find are the best possible leather sweatbands.
I learned quickly that someone seriously seeking the best possible leather sweatbands, while also buying in tiny quantities, is not exactly the stuff of dreams for a leather sweatband maker. Some years ago, one sweatband maker expressed, in the strongest possible terms, his extreme pity and compassion for my wife, my mother, my children, anyone who has ever known me, pets, potted plants. Seemed a little over the top. I just wanted the best possible leather sweatbands.
The guy who makes the leather sweatbands I've been buying for more than a decade once told John Penman, another hat maker who shares my passion for quality materials, "You're almost as big a pain in the ass as that Brent Black in Hawaii." My wants are simple – the best possible.
The leather sweatbands in my hats are made from the finest sheepskin roan leather, vegetable tanned, and specially beveled so the reeding E-stitches are recessed for an extra level of comfort. Don't know what any of that means? No worries. I do. I learned from the guy who makes my leathers. He taught me a lot of important stuff about leather sweatbands, most likely as a form of self defense.
Choices for Montecristi Hats
Sand
Un-Dyed – recommended
Gold foil imprinting
Brown or black reeding tape*

Chicory
Un-Dyed – recommended
Gold foil imprinting
Brown or black reeding tape*

Nude
Un-dyed, uncoated
Brown printing is burned into leather
Black reeding tape

Black
Dyed – possible risk**
Gold foil imprinting
Black reeding tape

Antique Brown
Dyed – possible risk**
Gold foil imprinting
Brown reeding tape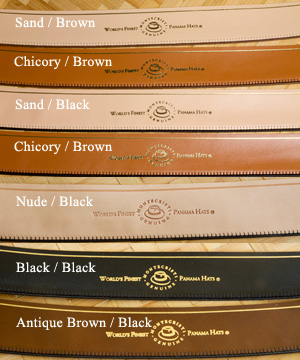 *About Reeding Tape — Don't worry about it. There is no wrong answer. It's not something anyone will ever notice. I generally use brown tape for hats with brown ribbons, black tape for black ribbons, make it up for others.
**About Dye — I do worry about it. The maker of the leather sweatbands swears that the dye will not bleed, and no one but me has ever raised the issue. It is not common, but I have seen a few instances of dark stains in straw, apparently caused by dye running out of a sweatband soaked with sweat. I also have seen dyed sweatbands so sweated in that they looked like crisp bacon, but no staining in the straw. My best guess is that personal body chemistry is the key variable. Some sweat may cause dye to bleed, most sweat does not. The Antique Brown sweatbands used to be standard for almost all of my hats. Now, I only use them for size test bands.
If you really, really want an Antique Brown or Black sweatband (they do look great), I will put one in for you. But if you're unlucky in the personal sweat chemistry lottery, and the sweatband stains your hat, I will not replace the hat.
Over the past 26 years, the great majority of leather sweatbands in my personal hats have been the dyed Antique Brown ones. I have never had a single instance of dye staining one of my hats. But others have. So, you have to decide if the color is worth the risk. No one sees the sweatband when you're wearing a hat.
Choices for Non-Montecristi Hats
Antique Brown
Dyed – never been a problem
Gold foil imprinting
Black reeding tape

Antique Brown
Dyed – never been a problem
Gold foil imprinting

Sand
Un-Dyed
Gold foil imprinting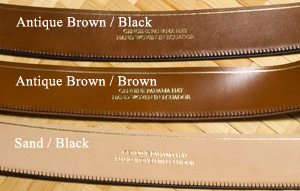 Cloth Sweatbands
Personally, I prefer leather sweatbands. But if you plan to roll up a hat, cloth is usually the choice. If you prefer to have a leather sweatband in a hat you will roll, let me know and I can look for a softer leather and take out the reeding.
The cloth sweatband I prefer is black cotton twill. It has more give to it than leather, but is firm enough for reasonably accurate sizing.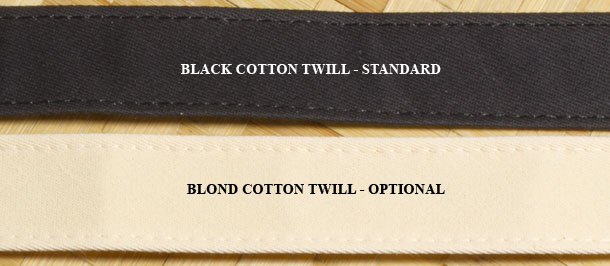 A blond twill sweatband is also available. This is used in hats that have white or very light colored ribbons, so white thread can be used (the black thread used to sew the black cloth sweatbands shows through light colored ribbons).
Sweat happens
If you go sweat in your hat, here's what to expect, how to deal with it.
A lot of times the whole point of having a hat is because you want some stylish sun protection while you exert yourself more than is reasonable, doing something that seems important at the time. Say . . . climbing El Castillo at Chichen Itza on a sunny day in June. Or trying to lift a double Mai Tai from a prone position on Ka'anapali Beach, Maui.
Does a bear sweat in the woods?
I've been testing and experimenting for years, trying to figure out what sort of sweatband is most effective at actually preventing sweat from reaching the straw. The answer is-- nothing.
Okay, you could put on one of those Olympic swimmer rubber caps before you put on your hat. That would keep even tsunami level sweat from reaching the straw. But my best guess is that you might get a little uncomfortable on a sunny August afternoon. (If you decide to go that route, remember to put the swim cap on when you measure your head and try on the size test bands.)
Leather sweatbands can hold back a lot of moisture, but serious sweat eventually will find its way through even thick buffalo hide. The thin, soft sheepskin roan leathers we use are much more comfortable. But if you sweat heavily, it will soak through the leather and will reach the straw.
The Cotton Twill sweatbands we use are very comfortable, but serious sweat will soak them, and then continue on into the straw of the hat. They do have a thin plastic backing, but serious sweat will just go around it.
Even rubber sweatbands would not completely solve the problem. The sweatbands are sewn to the hats. We use silk thread. Sweat can wick along the thread and into the straw. Even if we used plastic thread (yuck), as many hat makers do, the plastic thread would have to go through the rubber sweatband and into the straw in order to sew it. The sweat could still wick along the plastic thread, through the sewing hole, and into the straw. A rubber sweatband and plastic thread might possibly slow down the amount of sweat that gets into the straw of the hat. Or not. I suppose I'll never know, because I have no interest whatsoever in putting rubber sweatbands and plastic thread in my hats.
What to do after the fact
If you get your sweatband good and wet, here is what you might do.
Wet a clean sponge in fresh water. Squeeze it to get it to a manageable level of wetness.
Pull the sweatband gently away from the hat as you fold the sponge in half. Like a duck closing its beak, you get the band between the two halves of the sponge and wipe around the entire circumference. The purpose of the fresh water is to wipe away the salts from the sweat.
Wipe the sweatband with a clean towel right after wiping it with the sponge.
Rinse the sponge and squeeze it to just damp. Use it to gently wipe the straw behind the sweatband.
Gently dry the straw with a thin cloth.
Always remember to proceed gently. Soft hands. Try not to distort or change the shape of the hat while you are doing this stuff. Yes, of course that's impossible.
Many hat makers recommend that you turn the sweatband up and out of the hat while it dries.
Now you know. Some of that might work. Or it might just be a lot of bother. Might work for some, not for others. Sunspot activity may affect effectiveness. Or not.
Ribbon  If you sweat through the sweatband and into the straw, the ribbon is most likely wet as well. After it dries, the high water mark will be limned in a thin white line of salts. Clean sponge, fresh water, squeeze to damp. Wipe gently. Hold the ribbon in place while you wipe gently. Go with the grain.
When the stains get bad
If you are a frequent and/or enthusiastic sweater, the stains will become obvious eventually. Certainly to others, possibly to you.
If the straw is still strong, I may be able to take the band out, take the ribbon off, and give the hat a good washing. That sometimes lightens the stains a little. I have the same kind of soap they use in Montecristi. The only kind they use for the hats.
Sometimes I can turn the hat around when I re-block it and put the worst stains in back. Might give you a few more years with a good friend.
This is a good occasion to consider treating yourself to a new hat while the other one is being cleaned and re-blocked. Plan ahead. Order your new hat. When it arrives, put the old one in the same box and send it to me. Be sure to fill out and enclose the Blocking Order Form.
Bottom Line
If you sweat heavily and/or frequently, sweat will get into the straw.
If you sweat heavily and/or frequently, and sweat gets into the straw, then the sweat will cause sweat stains.
These are simply facts of hat life.