Simón Espinal is not only the best weaver now, he is one of the best weavers ever to touch toquilla.
How do I know? Good question, Watson.
I always believed all the talk. The hats are not as fine as they used to be. Everyone said so. Old men said so. Old women said so. Old children said so.
From the very first day I asked the question more than twenty years ago, everyone I've ever asked—and I've asked a lot—has stated, or supported the claim, that the finest Montecristi hats "now" are not as fine as the finest hats "then." You can understand how that was easy enough for me to believe.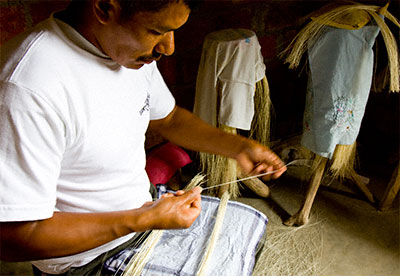 Simón begins the finest hat of his career.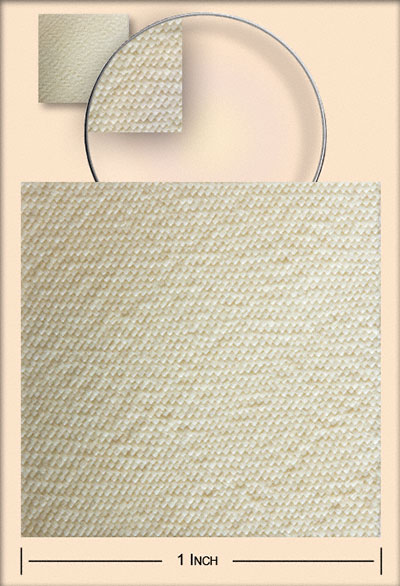 1 square inch from one of Simón's finest hats.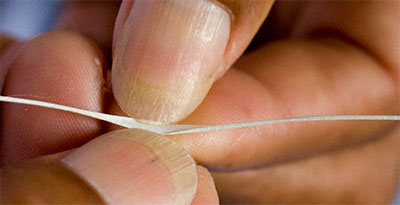 After I began working with Simón I got to thinking it over in more depth. Some of Simón's hats exceed 50 rows of weave per linear inch, more than 2500 "weaves" per square inch (2500 wpi). I need my reading glasses plus a good magnifying glass just to see the rows. How much finer could a hat possibly be?
Straw hats are woven all over the world. Montecristi straw hats are legendary, at least in part, because the plant fiber that grows in some of the micro-climates in Montecristi Canton may very well be the best plant fiber in the world for weaving fine straw hats.
Every type of plant fiber will have a limit to how thin it can be slit and still hold together as something that can be woven into a straw hat.
The fiber used to weave lauhala hats here in Hawaii and the famous white hats of the Cook Islands seems to have a limit of about one-eighth inch. Maybe I have not seen the finest examples.
Simón demonstrates that toquilla fiber can be woven more finely than one-fiftieth of an inch. Would it be possible to weave a hat with sixty rows of weave per inch? (Yes. Simón really did it.) Seventy?
Somewhere there is a physical limit of the material.
Somewhere there is a physical limit of the human.
If I prepared threads, all one one-hundredth of an inch, could Simón, or anyone, weave them? What is the finest/thinnest fiber that the best weaver can weave? Is Simón at the edge? Were the best weavers fifty years ago way better?
One prominent Montecristi hat family still had a fine hat from their grandfather. They said he was one of the best weavers of his time. They proudly brought out his hat. What a treasure. Too brittle to be blocked and worn, but a family treasure to be sure. It has about forty rows of weave per inch. A great hat. But finer hats are being woven today by Simón, Marcial, Fausto, Aura, and a couple of others.
That is only one example. It is very fine. Perhaps other hats of the era were much finer. Perhaps not. With living memory the only research library, it is a difficult question.
Don Rosendo Delgado told us of a woman, a weaver in the 1950's. She may have been the finest of them all. As Don Rosendo remembers it, she was much sought after. She wove her hats for far-away clients. Rich and famous. They came to her directly. They came from all over the world to her house in Montecristi. Each hat required three months to weave. She charged $750. What would that be in today dollars?
Good for her. I hope the story is true.
Even with inflation, no weaver ever earned as much as $750 per hat. At least not until Simón and I began working together. He's WAY past that now.
I am sometimes tempted to ask Simón: what do you think about the best weaver ever being a woman? I think this woman could weave hats with seventy rows of weave, to get such high prices. Can you weave hats with seventy rows? Are you not a man? Was she not a woman?
It wouldn't work. Simón is too self-contained, too Zen.
But it might be worth a try.
Well, we had that conversation.
Simón didn't take the bait of the man-woman thing. Not at all. He asked about the pay. Fair enough.
We reached an agreement. He invested five months in weaving the finest hat of his life. Most likely, it is the finest hat ever woven. Even I am satisfied. The Montecristi Cuenta of the hat is more than 3200. That's enough.
My quest is over.
No need to try for even finer. It's art, not math.
I realized that if I owned two Rembrandt's, the one with more brush strokes would not necessarily be the better painting.
Always polite, Simón hid his disappointment that I did not suggest a six-month hat.