It's trickier than you would think to show ribbon colors. This page replaces a page with scans of each of the ribbons. Some looked good, some were yucky gray mud. Personally, I've never wanted a ribbon the color of yucky gray mud. Those ribbons were not often chosen.
One improvement was when I updated the photos shown with each style. Originally, there were photos of the same hat from a few different angles (radical at that time), and the hats usually had black ribbons. I have now added LOTS of new photos of different examples of the many styles.
For each style, I want to show hats with different ribbons, different brim widths, different hues of straw colors. I want to show that the hats are not all the same, that even the same style can have many different looks.
Change the ribbon, and you change the hat.
The big photos of color "families" below were shot in a white cube, all in the same light, so whatever I might do in Photoshop would affect all the ribbons in the photo equally. Right?
They came out much better than the scans. I will advise below the photo if a particular color doesn't look right. Dove Gray comes to mind.
There is also a full list of the 55 free ribbons, plus 3 vintage ribbons that I photographed the same day as the others. (There are hundreds more vintage ribbons not shown.)
The Photos to the Right
These are examples of different ribbons on hats. If I don't have a photo of a finished hat with a particular ribbon color, I put the ribbon against a hat and took a photo, so you can see the color, and how it looks against a hat. I don't always show all the different widths of the same color. Seeing the color is the priority.
Right now, you can choose from 55 ribbon colors and widths. And I will add more.
Collect them all!
No, you can't buy one hat and forty ribbons. Each bow is hand made and each ribbon is hand sewn. That is the best way to achieve the highest quality. Not easy.
The best way is almost always the hard way.
Which is why no one else does things the way I do.
Easier has become a higher priority than better.
I'm still old school. Better is always better.
Silk Ribbons
Now you can choose 100% silk ribbons. Milled in Japan. And bought directly from the ribbon mill.
Black, Navy Blue, Brown, Gray
Vintage Ribbons
I have so many vintage ribbons that the idea of photographing all of them, naming them, and adding them to the website . . . well, maybe I'd rather go have a beer.
Some of the vintage ribbons have patterns in the weave that are just amazing to me. Woven into the ribbons, not just printed on them. And often adding a third dimension to the otherwise flat ribbons. I have tried to have them reproduced, but they literally don't make 'em like they used to. No one can reproduce them.
Some have been lured away from me at $1000 for enough for one hat. Others have never had a price decided. No hurry. As with the finest hats of Simón Espinal, they are beautiful, simply beautiful, and I just like having them.
I still have fantasies of showing and offering the many, many vintage ribbons in my collection. Someday.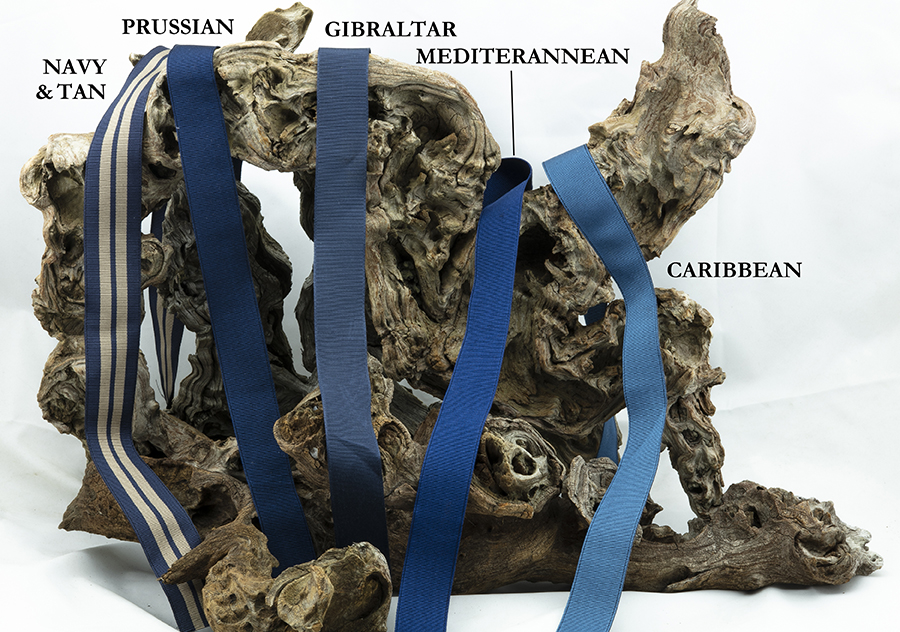 Blues
Prussian Blue is the darkest. It is a new color for me. Also the Caribbean Blue and Navy & Tan are new. Gibraltar Blue and Mediterranean Blue have been very popular choices. Especially the Mediterranean Blue, which is available in 3 widths.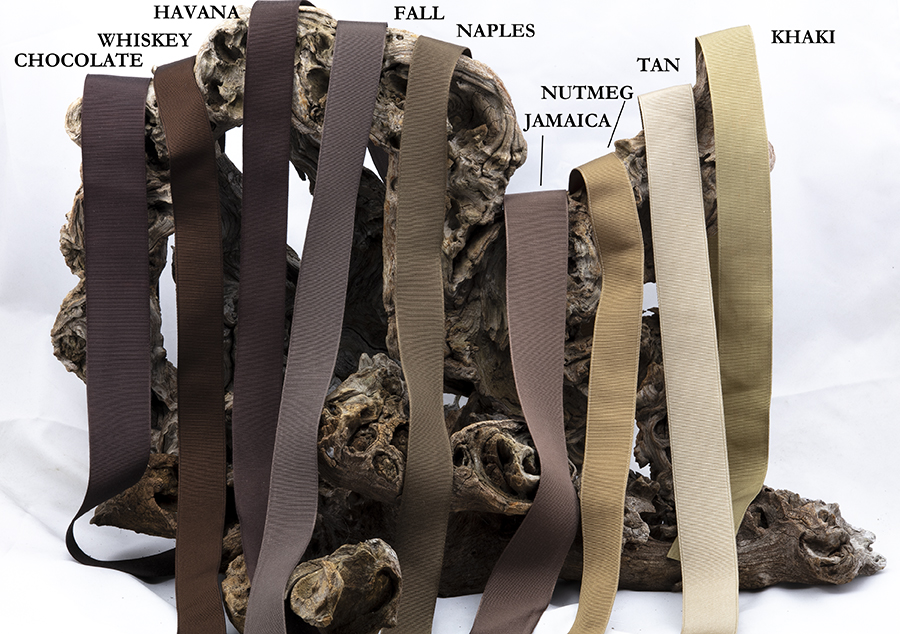 Browns
Fall brown is a little darker than Naples Brown. Havana Brown has always been very popular. The Whiskey Brown is new, and I wonder if it will become more popular than Havana Brown. It is now my personal favorite. Jamaica Brown and Chocolate Brown are available only in the wide and are both great with the Cocoa hats. (Nutmeg used to be called Sienna.)
Grays
The Dove Gray in this photo looks much too blue. It is a little lighter than Storm Gray, and is a very good choice if you are thinking of a gray ribbon. Be sure to look at Dove Gray in the other photos to the right. Happy Gray looks right and is very popular. In some light, it looks almost lavender. Tuxedo 1 is now available in the 1 7/6 width. Silver Sand is a little more gray than it looks in the photo.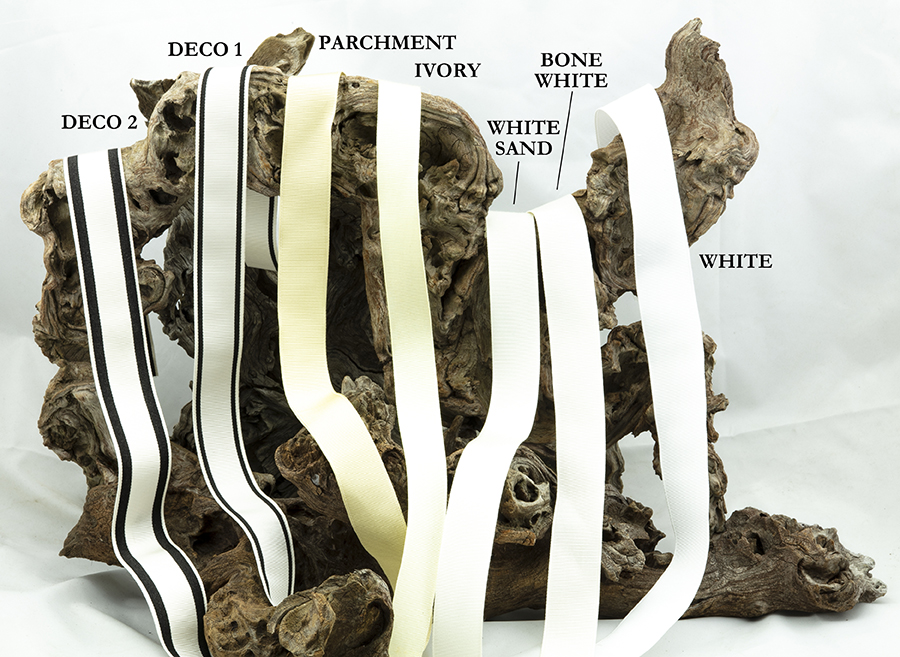 Whites
These are maybe the most difficult to show the colors accurately. Subtle differences. Hard to see much difference between White Sand and Bone White. Ivory looks about right. Parchment looks too yellow. Be sure to look at the photos of the ribbons on hats when trying to choose.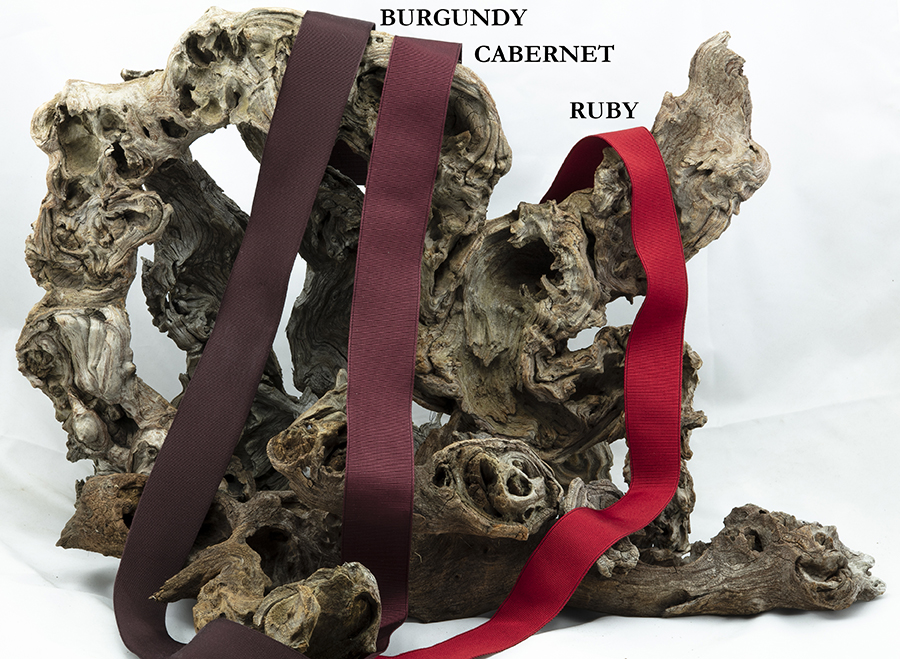 Wines
Ruby is the brightest. Cabernet is the most popular. Burgundy is new and is the darkest. All three look pretty accurate in the photo.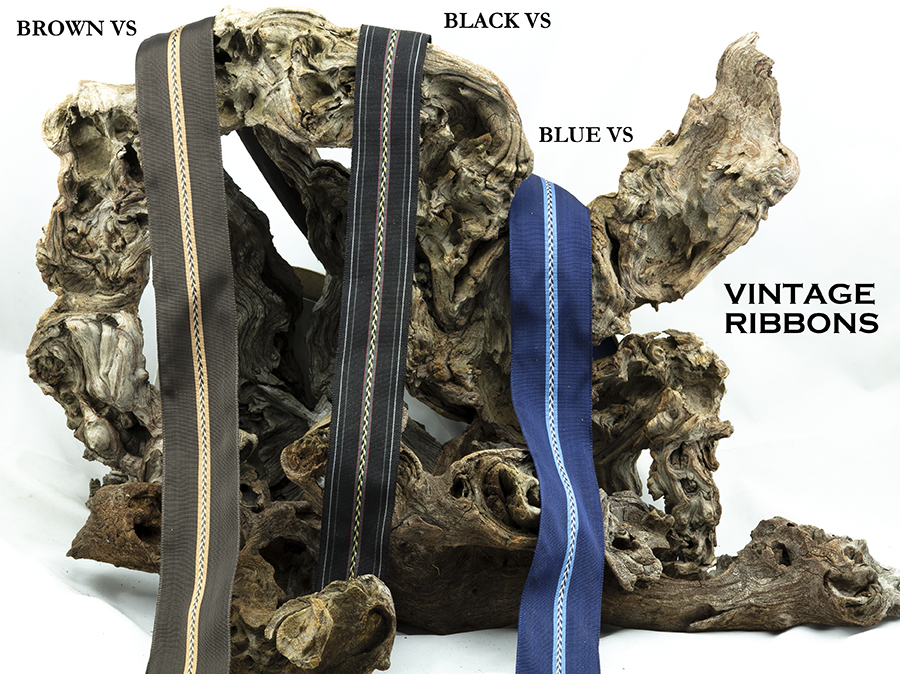 Vintage Stripes
These are fun. Pretty wide, not appropriate for all styles. I really like these. Because they are vintage ribbons, I do have to charge for them.
I happened across some photos of other vintage ribbons while I was working on this page, so I decided to include them – see photos at the bottom on the right. Lots more, including some that are solid colors and some that are just incredible.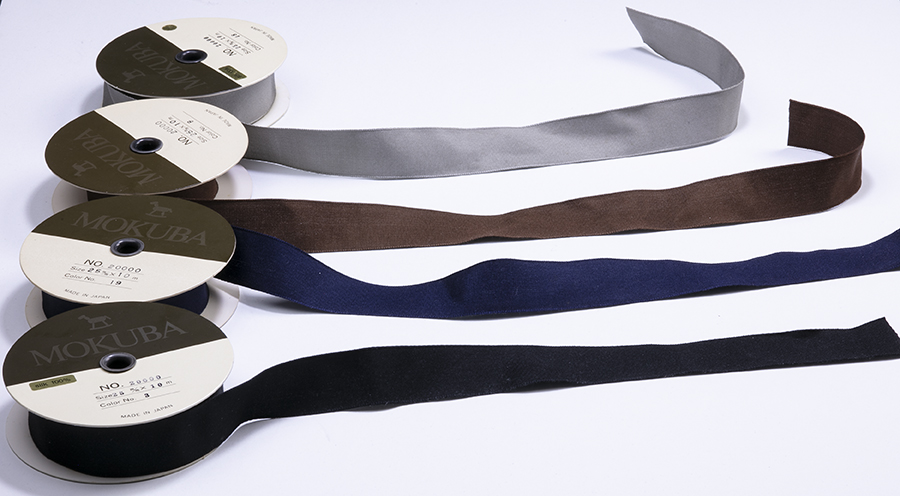 Silk Ribbons
100% silk ribbons from Japan. Gray, Brown, Navy, Black.
The Panama Hat Company of the Pacific dba
Brent Black Panama Hats
1314 Center Dr., Suite B-448
Medford, OR 97501
There is no retail store at this address. (more)
Toll Free: (888) 658-6500
Phone: (541) 201-3113
bbb@brentblack.com
Text and photos © 1988-2022, B. Brent Black. All rights reserved.
100% Secure Shopping