West Panama SE Cocoa

Did anyone at the OK Corral wear a Panama hat?
Probably not. It was just impossible to get a really good Panama hat in Tombstone, Arizona in 1881. But if my West Panama SE had been available, even by mail order, maybe-- No. No one would be fool enough to wear his favorite hat to a gunfight.
You put on your favorite hat when you're fixin' to mosey over to the saloons and dance halls and gambling establishments. Places where you might encounter females of the species.
Definitely a Western hat style. The brims are shaped on wood forms discovered in an attic space in a building in West Colorado. The space had been sealed off and forgotten for nearly a hundred years. Then rediscovered during a building renovation. Sweet. Recycling at its best.
Brims can be wider than most styles. Four inches, maybe a little more. You have three brim width choices – 3 to 3 3/8 inches, 3 1/2 to 3 5/8 inches, 3 3/4 to 4 inches or more.
Crown shape is an absolute classic. Pinch front, teardrop top. Same crown as my most popular styles: Kentucky Smith®, Classic Fedora, Hemingway's Hat, Plantation, Aficionado.
Hand woven.
Hand blocked.
Hand styled.
Hand-sewn sweatbands.
Hand-sewn ribbon or
Hand-woven horsehair band.
Custom sized,
by hand of course.
Coronado's Safari Hats
Perhaps you're wondering, "How does a Western hat style make sense as a Safari Edition? Safari? In the West?" Absolutely.
Well, depends how you define safari, I suppose.
If you accept the Swahili usage, to mean "an overland journey," then I direct your attention to Francisco de Coronado's 1540-42 overland journey out of Mexico, up through Arizona, across New Mexico, through the Texas panhandle, all the way into eastern Kansas, and back again. Definitely a serious overland journey.
Remember what kind of hats the Spanish conquistadors wore?
Remember those drawings, in your history books, of Spanish conquistadors wearing goofy iron hats with iron brims, pointed up in front and back, with an iron ridge crest on top?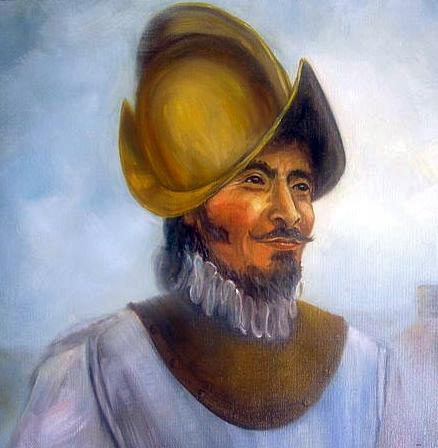 Francisco de Coronado
Ha! Tell you what – if I'm going to travel overland through New Mexico and Arizona in the summer, that's not the hat I would choose.
Nope. On those 110-degree days, I would not be yearning for an iron oven to put on my head. I'd be seeing mirages of hats made of a material considerably lighter than iron. With a much wider brim, one that wouldn't burn my fingers. A sweatband would be good. And if the hat might let a little air in and out, that would be a blessing.
Talk about a business opportunity – imagine you owned a little trailside hat shop when Coronado and his troops came conquistadoring along in 1541, sweating through another cloudless scorcher, wearing those ridiculous iron hats (called combed morions, in case you need it for a crossword puzzle).
My West Panama SE would have looked like a gift from the angels. You probably could have bargained for at least one of the Seven Cities of Cibola as your payment for supplying the troops with the coolest hats anyone had ever seen.
As it turns out, you'd have been wiser to insist on cash.
After You Order
While I'm making your hat, you might want to make a list – saloons, dance halls, gambling establishments, women who appreciate great hats, maybe a few beaches where a West Panama SE would be the perfect choice.
If you experience a sudden urge to rush off on a thousand-mile, Coronado-style safari, sit down immediately. Have someone bring you a bottle of single barrel something. Administer an emergency dose. Thousand-mile safari? Don't be foolish.
Wait for your hat to arrive.
Hand woven genuine Panama hat
Hand woven brim edge
Straw dyed "Cocoa" color
Hand blocked and custom sized
Crown about 4 5/8 to 5" measured on side
Short brim – 3 to 3 3/8 inches
Regular brim – 3 ½ to 3 ¾ inches
Full Western – 3 7/8 inches and wider
Fine leather sweatband standard
1 1⁄16" Havana Brown ribbon standard (many other choices)
Woven horsehair band optional
Weave count comparable to some of my Montecristi hats