Daniela is my first goddaughter in Pile.
In 2008, Daniela's mom, Lourdes, had some complications with her pregnancy. Fortunately, I learned of the problem and was able to help with the medical costs. I've been part of Daniela's life since before she was born.
Daniela is left-handed. Her parents are not. I am left-handed.
A wonderful coincidence. It gives us a kind of nonverbal insider connection right-handed people don't have. We share inconveniences and challenges right-handed people don't have. We're working on a secret handshake. Left-handed of course.
So, I went online, found a good left-handed store, and did as any godfather would –– bought a ridiculous amount of stuff.
T-shirt: I'm left-handed! What's your superpower?
Left-handed scissors
Left-handed cooking utensils
Left-handed can opener
Left-handed pens
Left-handed grips for pencils
And so on
The little boy in the window is her cousin.
I was also able to help him and his family with medical costs for surgery to his testicles. Yikes. We guys think testicles are kind of important. His father, Dimas, was very appreciative. I'm glad I found out and was able to help.
Daniela and her cousin
November 2015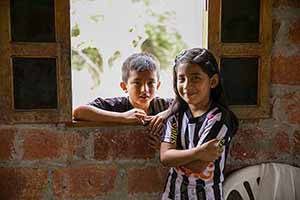 Daniela and her godfather
January 2018
Daniela has acquired another left-handed T-shirt:
I'm left-handed and I hate your scissors.
From time to time, someone will tell me, "You don't know squat!" I beg to differ. Yes I do.
In the photo to the right, I am half squatting. If I bent my knees even more, and lowered my butt until it was almost touching my heels, that would be a full squat.
Proof. I know squat.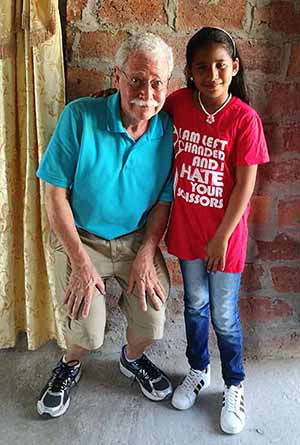 Daniela is learning English in school. I hope she is learning English faster than I am learning Spanish. I suggested that perhaps she could teach me Spanish. She liked the idea, and brought out her English workbook from school. She sat me down and guided me through the lessons.
Best afternoon I've had in a long time. Maybe since my own daughter was nine years old. Laurel and I passed many, many hours sharing books, usually with me reading aloud to her, even long after she was perfectly capable of reading them herself. I read aloud the entire Chronicles of Narnia series. Three times. Plus hundreds of other books.
Daniela and I shared her English workbook.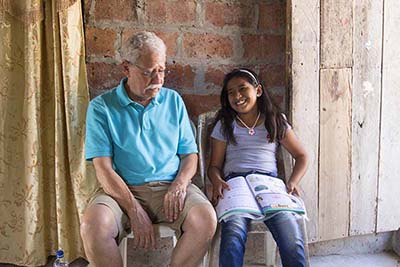 I remember well my own daughter when she was nine.
It is a precious joy to me that I can still bring laughs to a nine year old, even in Spanish. Happy godfather.