How's Simón Doing?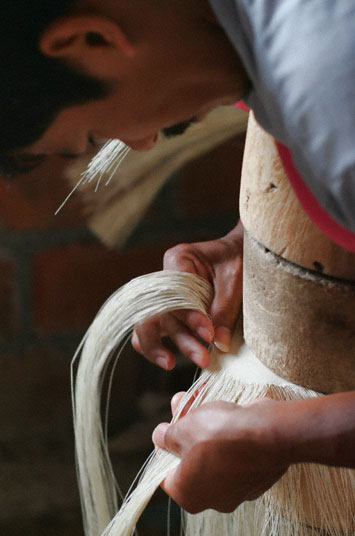 Better.
Both artistically and financially.
No, I don't have any photos of Simón with his new SUV in front of his new McMansion. But he is most definitely a success story.
Before we began to work together, he could not earn enough from weaving to support his family. He worked on a fishing boat. He, his wife, and their three children, all lived with Simón's parents. Lived in one room with a dirt floor. In an interview with World Vision Network, Simón said they often didn't have enough to eat. (hear report)
Now Simón weaves full time. His dependable, guaranteed weaving income is in the top 30% of all incomes in his country. The cash price he now receives for each hat makes him the highest paid weaver in history. He also receives an artist's commission when one of his works of art is purchased.
When he received his artist's commissions from the sale of his first two hats, it was more than he used to earn in three years of weaving, before El Gringo Loco came a knockin' on his door. Jorge and Diego helped him open his first bank account. I stayed out of the way. But I was there and I felt good about it. Simón looked like he felt pretty good about it too.
Simón has received a commission from a single hat that was about equal to what he used to earn in five years. And he has received more than one such commission.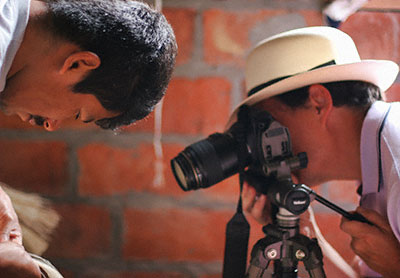 Roff Smith photographs Simón for a book he is writing.
He moved out of his parents' house long ago and has built an enviable new house of their own for his family. Perhaps you wouldn't envy it, but his neighbors all do. His teenage son and daughter are eager to move out as soon as possible. Some things are the same everywhere.
I remember telling Simón (with Jorge's help) my hopes and dreams for him as a world-famous artist. He would become famous. People would come to his door to try to buy his hats. They would offer thousands of dollars for one Simón Espinal hat. He was too polite to blow me a big raspberry, but I could see he was doing his best to be tolerant of a maniac. Not the first time I've seen that look.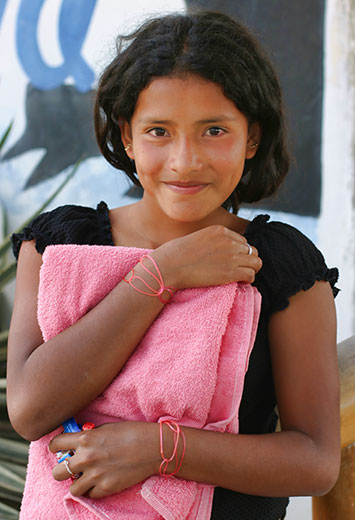 This is Gisela, Simón's daughter.
Another masterpiece, as you can see.
Now Simón Espinal can see his name in Robb Report and National Geographic. He can watch a DVD of his appearance on CBS News. People come to his door and offer him thousands of dollars for a single hat. Call me Nostradamus.
Simón's quality of life, and his family's, have improved dramatically. Their quality of life will continue to improve in the years ahead. It will improve every time someone purchases one of his masterpieces.
Someone like you?
The Panama Hat Company of the Pacific dba
Brent Black Panama Hats
1314 Center Dr., Suite B-448
Medford, OR 97501
There is no retail store at this address. (more)
Toll Free: (888) 658-6500
Phone: (541) 201-3113
bbb@brentblack.com
Text and photos © 1988-2022, B. Brent Black. All rights reserved.
100% Secure Shopping